EDIT:
Well, poop.
My uncle pointed out that he thought it was illegal to sell raffle tickets, so I did some research online - which led to a massive headache caused by trying to decipher all the legalease.
Unfortunately, he's right. Apparently in the state of Ohio, selling raffle tickets is illegal, unless you are a non-profit and obtain a license. (And pay a hefty fee.)
If I continue with my raffle and get caught, it's a misdemeanor of the first degree.
Lame.
So, what do I do with my raffle items? :(
(I just got the necklaces in the mail this morning, too. They're very pretty!)
I guess I could just put set prices on everything... first come, first serve for The Internets and what doesn't sell will go in the yardsale.
I am sad.
----------
I have 4 weekends left until our fundraiser/garage sale and I am starting to feel the pressure of getting everything ready. Add to that the fact that we are helping out some family friends so now have temporary new roommates and the garden needs harvested and life is i-n-s-a-n-e lately.
Item #1
Spa Gift Basket valued at over $40. Selling for $15.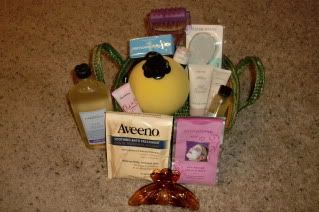 -10 oz and 2 oz bottles of Bath & Body Works Aromatherapy Body Wash (Lavender Vanilla - Sleep)
-Vibrating Sponge with batteries included
-hair clip
-rolly massager thing
-nail buffer/shiner
-Aveeno oatmeal bath
-pumice stone
-self-heating red clay mask
-1 oz Victoria's Secret illuminating body lotion
-Mary Kay Timewise cellu-Shape body moisturizer (1.7 oz daytime and 1 oz nighttime)
-.17 oz Aura Science eye recovery cream
-cute little basket :)
Item #2
Kitty Gift Basket - $20 value. Sold!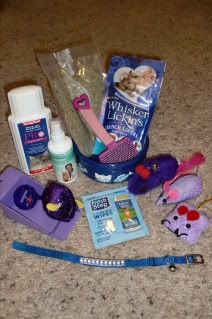 -Whisker Lickins cat treats
-cat brush
-cat nip
-two matching food/water bowls (1 blue and 1 white - not pictured)
-4 mouse toys and 1 ball
-food scoop
-collar w/ bell
-3/4 bottle mink oil cat shampoo
-1/2 bottle Pro Pet stress relief calming spray
-6 Fresh Step litter box wipes
Item #3
Emergency Travel Case for Men - $18 value. Selling for $7.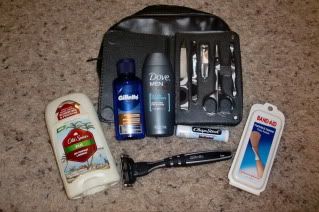 Perfect to keep in the car or throw in your carry on bag for trips!
-carrying case
-Old Spice anti-perspirant and deodorant
-1.7 oz Gillette shampoo
-1.8 oz Dove body and face wash
-Gilette razor
-Chapstick
-grooming kit (nail file, tweezers, finger nail clippers, scissors and cuticle thing)
-bandaids
-Scope mouthwash (not pictured)
-nick stick to stop bleeding (not pictured)
-Aveeno lotion (not pictured)
Item #4
Wind chimes - $25 value. Selling for $10.
I really like these and almost want to keep them for myself. The chimes are not loud and obnoxious like some can be - they are very muted sounding and pretty!
Item #5
Wedding Emergency Kit - $40 value. Selling for $15.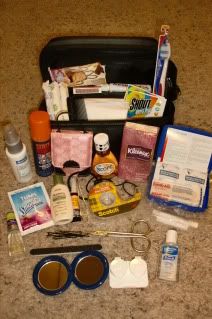 My maid of honor put some of this kit together for me for my wedding day and it was a blessing to have it on hand! It's filled with lots of little things you may forget on that big day that you'll find yourself needing! Would make a great bridal shower gift or just be nice to keep in your car for random other uses!
- carrying case
- protein bar
- matches
- toothpaste and toothbrush
- 4 Shout wipes
- 2 maxi pads and 3 tampons
- comb
- hairspray
- static guard
- sewing kit
- bandaids/alcohol wipes
- nick stick to stop bleeding (not pictured)
- tissues
- Tums
- ponytail holders
- bobby pins
- Aveeno lotion
- tweezers
- superglue
- clear nail polish (stops runs in pantyhose!)
- clear tape
- contact case
- saline solution
- nail file
- nick stick to stop bleeding
- small mirror
- hand sanitizer
- scissors
(The Scope mouthwash and one of the nick sticks pictured have been swiped from here and put it in the man's emergency kit so they're not included.)